The Shamisen is symbolized as the concept of three elements of existence as "Tenchijin (heaven, earth and man)". "Sao rod" and "Itomaki neck" are indicated as heaven, "Dou body" is as earth and "3 strings" are as man.
The doctrine of "Chikoku Heiten (govern the nation and bring peace to the land)" is signified in Shamisen, in other words, it is essential for Shamisen to have a good harmonization of the three elements for creating beautiful sound.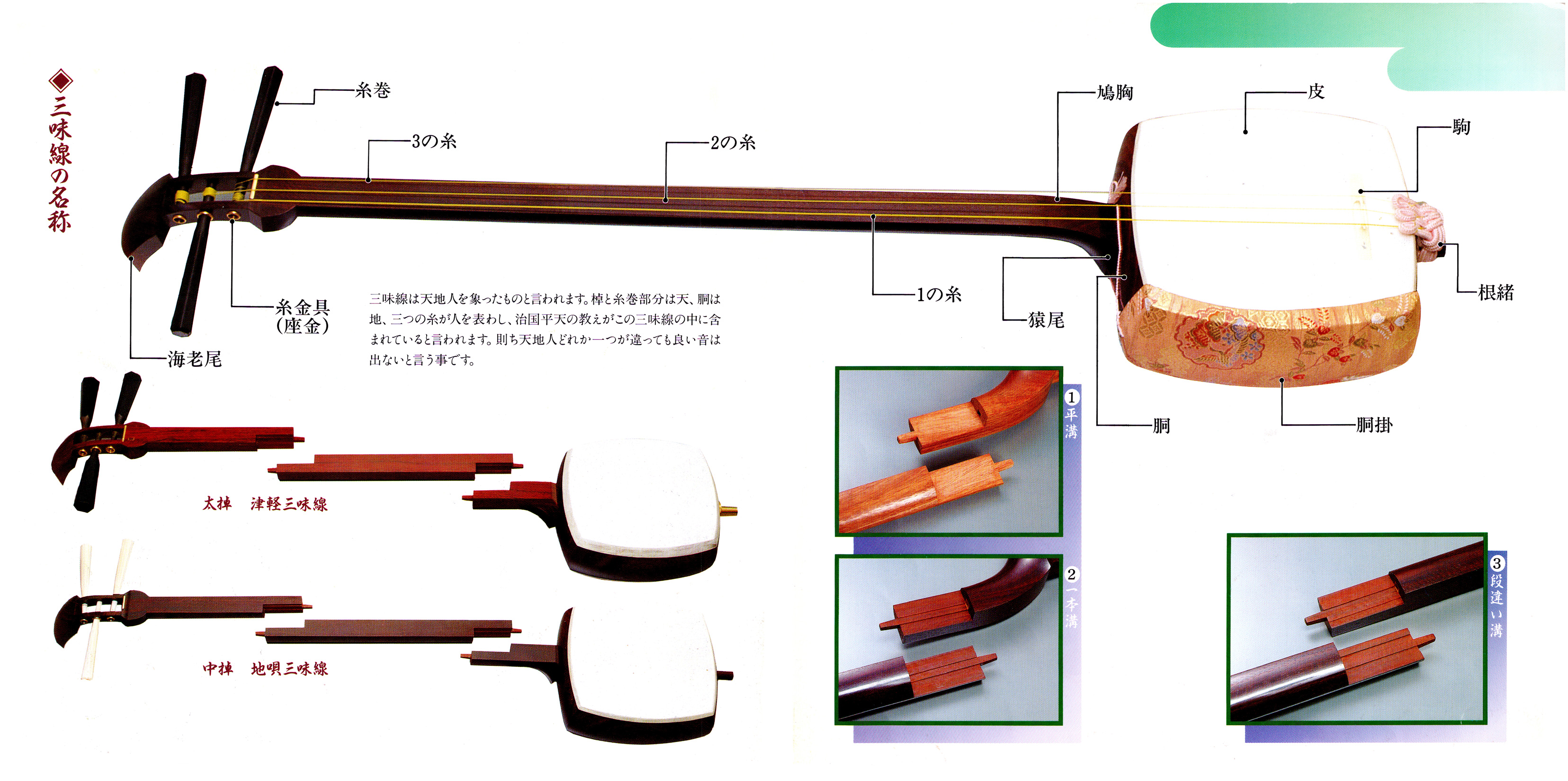 Araki

Materials for Shamisen neck are Chinese wood such as Karin, Shitan, Koboku, etc.

Kidori

"Araki" is cut in three pieces by saws and then fitting is created.

Hadatsuki

"Marume" of neck is scraped coarsely by hand axe first.

Hosogane-ire

Gold plates are inserted by fitting to create luxuriousness.

Marume

"Marume" is scraped in round shape by files and "Saruo" is scraped by shaving knife.

Migaki

The neck is finally polished by 3 different grindstones carefully.

Sawarimizo-tsuke

The most important process of Shamisen sound is to create grooving and this is a very sensitive work.

Yakinuki

"Itomaki" holes for metal fittings are created by applying  heated tongs and these holes help protecting from cracks of "itagura".

Dou-shikomi

The neck is inserted into the body through the coordinated size of insert at the body.

Kawahari

The 80% of Shamisen sound  is rely on the process of "kawahari" which is the most important work.

Itomaki-suge

Itomaki peg is carefully scraped one by one to be fit into holes. The point is to string tightly and the string is not to be loosen.

Itokake

The strings are different by usages from thick to thin also by the size of neck and body.